This post brought to you by
TruMoo
. All opinions are 100% mine.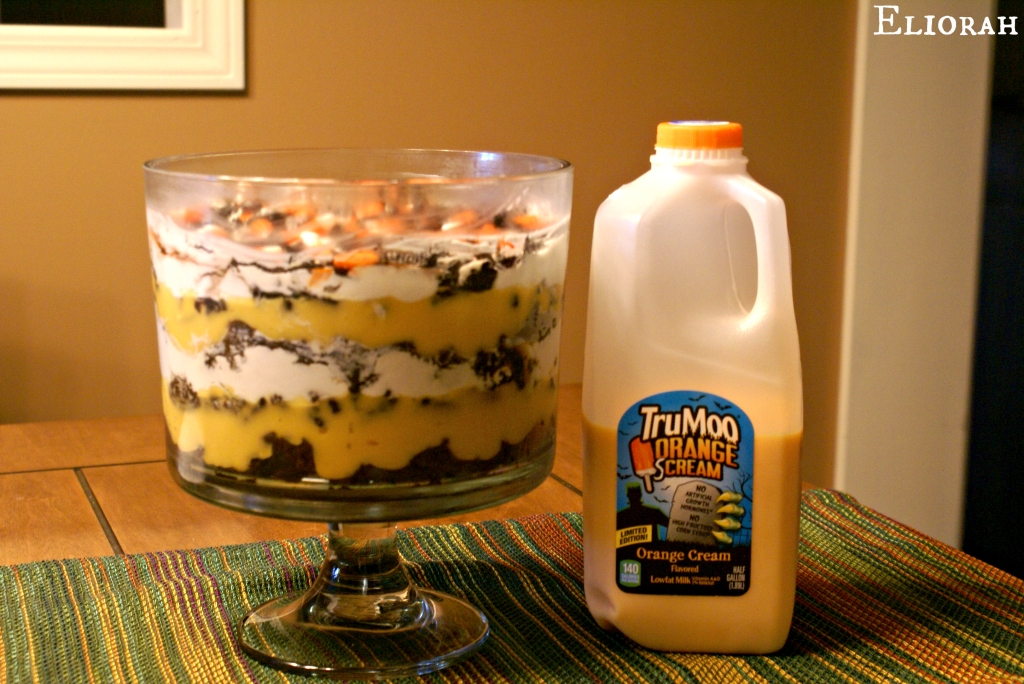 It's amazing how quickly the seasons are changing here in Michigan already. We drove up to the Charlevoix region last weekend just to do a Fall colors tour, and the colors are so beautiful - I wish they would last longer! I would say that Fall is one of my favorite seasons - there is always so much to do. There are Fall festivals all around right now, which means apples, apple picking, pumpkins, hayrides, corn mazes, apple cider, cider donuts (which disappear quickly at my house), chili and soups. It also means Halloween at the end of the month!
We aren't a family that goes all out for Halloween, but I am looking forward to dressing up the little one for the first time, and my husband doesn't hate all the candy! He has such a sweet tooth, he's always up for trying a new dessert. Right now, TruMoo is selling limited edition Orange Scream and Chocolate flavored milk for Halloween. So when I had the opportunity to sample some TruMoo limited edition Orange Scream flavored Milk, I jumped on it. I'll admit we were a little suspicious when we realized the milk was
orange
, but let me tell you, I tasted it and it really does taste like an orange creamsicle!
I've been browsing Pinterest lately and have seen a bunch of Oreo desserts popping up - my husband's favorite. I remember seeing an Oreo trifle (not sure the source - sorry!), and decided that the TruMoo Orange Scream flavored milk would be perfect for making a pudding layer in a Halloween-themed Oreo trifle. This is so quick and easy to make, it would be the perfect dessert for a Halloween party in the classroom or at home! And lucky for you, I'm sharing the recipe with you below! (At the bottom of this post, there is a consolidated recipe for easy reference)
A side note on Pinterest - I love browsing and finding all kinds of amazing recipes. Be sure to check out and follow the TruMoo Milk
Pinterest
page for some other delcious ideas and recipes!
The list of ingredients is a short one: a box of brownies (eggs and oil required also), a 1/2-gallon of TruMoo Orange Scream flavored milk, 2 boxes of vanilla instant pudding, a package of Oreos, whipped topping, and some Halloween candy for the top - we chose to use candy corn.
First, follow the directions on your brownies box to make a pan of brownies and let them completely cool. In the meantime, pour 3 cups of TruMoo Orange Scream flavored milk into a medium bowl and mix in both boxes of vanilla instant pudding. Place this mixture in the fridge to allow the pudding to set - it should only take 5-10 minutes.
Once your brownies have cooled, crumble half of them into the bottom of a trifle dish to create your first layer.

Next comes the TruMoo Orange Scream pudding layer. I may have tasted a little bit before adding, and oh my goodness, delicious! Scoop half of your pudding over the brownies and spread evenly to make this second layer.
The pudding is the perfect color for this Halloween dessert!
For your third layer, crumble about a third of your Oreos on top of the pudding.
For the fourth and final layer, spread half of your whipped topping, completely covering the Oreo layer.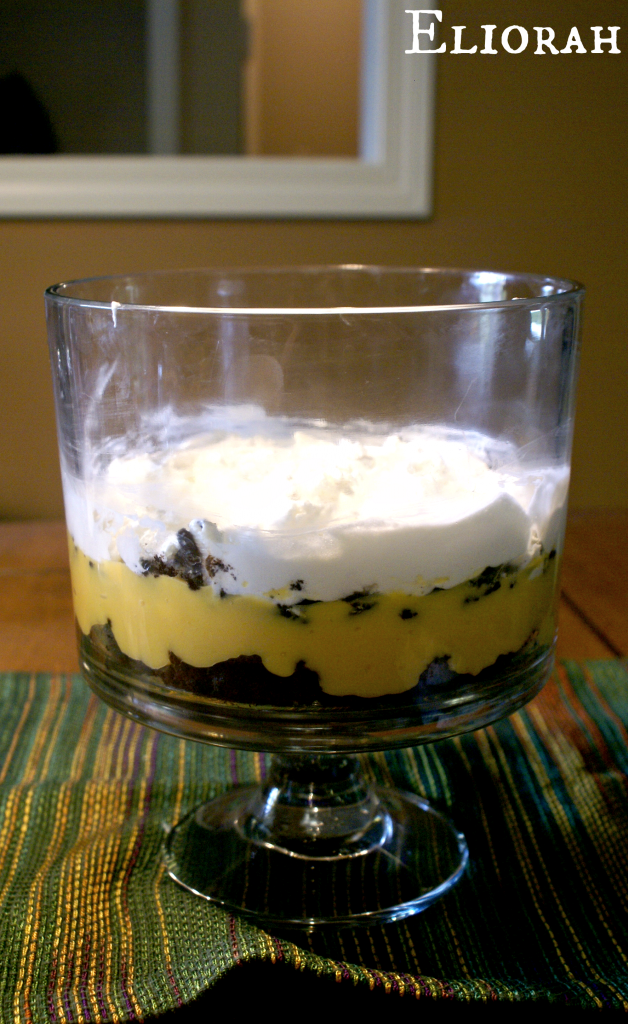 You will want to repeat the last four layers once more to get to the top of your trifle dish. For a little Halloween-candied fun, I added candy corn to a final layer of Oreos to pull all the colors together!
Doesn't that look delicious?! Trust me, it is. It comes together so easily, that even your kids could help make this amazing dessert. There are so many more fun recipes on the TruMoo website that are kid-friendly. Be sure to
visit their website for more delicious TruMoo Halloween recipes
!
One of the best things about TruMoo flavored milk
is that it is nutritious AND delicious. It's made fresh from your local dairy and contains NO artificial growth hormones or high fructose corn syrup. Such a great thing to use to make some delicious treats! For more delicious treats to make at home, be sure to follow TruMoo Milk on Facebook!

Ingredients
1 box of brownies
3 cups TruMoo Orange Scream flavored milk
2 packages of vanilla instant pudding mix
1 package of Oreos
1 large container of Whipped Topping
1 bag of candy corn
Directions
Make your brownies according to the box directions & let cool completely.
In the meantime, combine 3 cups of TruMoo Orange Scream flavored milk with 2 packages of vanilla instant pudding. Place in refridgerator for the pudding to set (5-10 minutes).
For your first layer, crumble half of your brownies and spread evenly in your trifle dish.
Next, scoop half of your pudding over the layer of brownies and spread evenly.
For the third layer, crumble Oreos and spread evenly - I used about 1/3 of the package of Oreos.
For the final layer, spread half of the Whipped Topping evenly over the layer of crumbled Oreos.
Repeat steps 3-6 once more.
For the finishing touches of your dessert, crumbled the remaining Oreos and toss some candy corn on top!